In 2014, the world was reminded of the threat posed by Islamic extremists when the Islamic State (ISIS) terrorist group overtook Iraq's second largest city, Mosul, in a matter of hours. Within a few weeks, ISIS had also claimed areas surrounding Mosul — areas that have been historically home to Christian populations. The ISIS terrorists gave Christians a choice: they could convert to Islam, pay a high tax, leave or be killed. Most Christians fled the area within days.
When ISIS declared a caliphate over regions of Syria and Iraq, Boko Haram declared its own caliphate in Nigeria after seizing the mostly-Christian city of Gwoza on Aug. 24, 2014.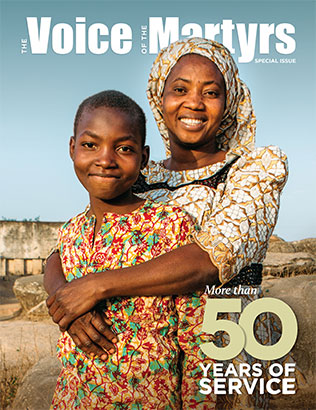 Between 2010 and 2014, an estimated 11,500 Christians were killed, 3,500 injured and thousands more displaced as Boko Haram has advanced through Borno, Yobe and Adamawa states in northern Nigeria. Throughout this time, VOM has worked to meet the needs of injured and displaced Nigerian Christians. After each attack, medical workers are dispatched to document the needs of the injured and help get them the best possible medical care.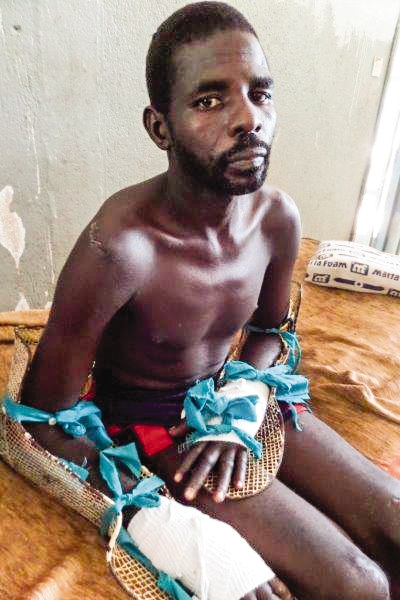 One Nigerian Christian we helped in 2014 is John Yakubu. After surviving multiple attacks by Boko Haram in the Gwoza area of Borno state, the then 43-year-old believer escaped with his family to a refugee camp in Cameroon. Unable to feed his family, he returned home to gather some of his livestock.
When Boko Haram members saw him enter his house, they captured him and demanded that he convert to Islam. John refused, so the terrorists tied him to a tree and cut him on the head, back and legs with large knives before leaving him for dead. He was later rescued and taken to a hospital, where he is being helped by VOM. Despite his ordeal, John told a VOM worker, "I have forgiven the Islamic militants because they did not know what they were doing."
Many Nigerian Christians forgive their persecutors, and some even share the gospel with militants. Philemon Dabou lived in Attagara, Adamawa state. When Boko Haram overran his village, he escaped into the hills. But he soon felt convicted to share Christ with the insurgents, who were lost and needed to hear the gospel. He returned to the village, but before he could say anything, he was shot in the abdomen. VOM has helped him get medical care while he recovers in a refugee camp.
Helping Iraqi Christians
The situation for Iraqi Christians who fled ISIS remains critical. "In a storm, it is very dusty and you can't see what is happening," said a VOM worker in Iraq. "You have to wait for the storm to pass and the dust to settle. Then, you see what God has done. We are in the storm right now."
Before Pastor Kubria left Mosul, ISIS painted the Arabic letter nun, or "N," on his home to indicate that they had confiscated his property. Although this brother lost everything to ISIS, he told a VOM worker that his greatest concern is not for himself. "I feel sorry for [the Islamists]," he said. "They are victims." Pastor Kubria continues to lead his church and helps minister to the thousands of refugees. "[The current crisis] is a lot of pressure," he said. "God is giving us grace. We are doing what we can."
The needs of the refugees are overwhelming. VOM workers meet the refugees' needs by providing basic housing, mattresses, food supplies and potable water, but refugees have a lot of time on their hands and little to occupy it. "The worst thing about the camps is there is nothing to do," a VOM worker said. "People just sit around. They don't have jobs. They don't have things to do. It is utter boredom." One of the ways VOM is helping address this is by providing the children with Action Bibles, a Bible illustrated with graphics by a former Marvel and DC Comics artist.
God is at work amid the storm. "One of the opportunities that ISIS has given us is that they have united us as Christians," a local Christian leader said. "As Christians, we are prepared not just for good days, but for the black days, too. The next generation will forget who persecutes us. But they will not forget those who help us and support us."
Christians Displaced by Islamist Extremists in Nigeria and Iraq