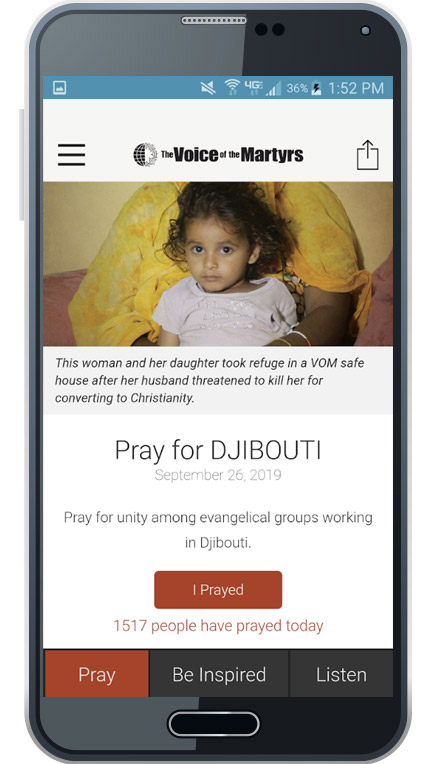 The Voice of the Martyrs'
Pray Today
Pray for Persecuted Christians Daily
What can we do about persecution? The first thing we can do is pray. It might be intimidating to know where to start, but the VOM prayer app will get you started. Pray powerful, specific prayers for your brothers and sisters under persecution.
The app provides one new prayer request every day and can be set with a daily reminder.
Features:
One new prayer request every day
Daily reminder option
Inspiring imagery
Current country information for all 68 Restricted, Hostile and Monitored countries
Daily Extreme Devotion entry
Read online and offline
Listen to latest VOM Radio show
Check details for VOM Advance events
Subscribe to free VOM newsletter
iPhone Screenshots
Android Screenshots
Releases
Technical support
To obtain technical support, please send us an e-mail. Please don't use the iTunes® App Store® or Google Play™ review systems for technical support requests.
Privacy Policy | Terms of Service
Apple, the Apple logo, iPhone, and iPod touch are trademarks of Apple Inc., registered in the U.S. and other countries. App Store is a service mark of Apple Inc. iTunes is for legal or rightholder-authorized copying only. Don't steal music.
Android, Google Play and the Google Play logo are trademarks of Google Inc.
Also available on iTunes Store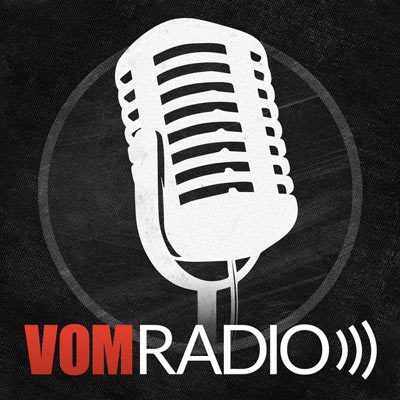 VOM Radio
Join host Todd Nettleton each week as we share the testimonies of brothers and sisters suffering for their faith in Christ. Their stories will challenge and encourage you in your own faith walk.
Subscribe to this podcast for free in the iTunes podcast directory, through Stitcher Radio, on SoundCloud, or by subscribing to the RSS feed in your podcast program.