Al-Shabab

Region: Somalia, Kenya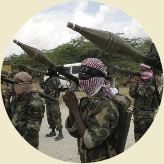 "Are you Christian or Muslim?"
April 2015: Four members of the Islamic terrorist group al-Shabab pounded on dorm room doors at Garissa University College in Kenya, demanding of each student, "Are you Muslim or Christian?" Muslims were allowed to flee. Christians were shot. By the time the attack ended, 147 Christians lay dead and 79 more were wounded. The siege didn't end until all four of the gunmen had been killed.
It wasn't the first time that al-Shabab ("the Youth" in Arabic) had specifically targeted Christians. During an attack on a Nairobi mall, they asked shoppers, "Are you Christian or Muslim?" Those who said they were Muslims were then asked to quote a passage from the Quran or to recite the Shahada, the Islamic statement of faith. If the words didn't roll smoothly off their tongues, they were killed. If they said they were Christians, they were killed. At least 67 people died in that attack, and more than 100 were wounded. The group again made its presence known with an attack on an upscale hotel in Nairobi that killed 14 people in January 2019.
These attacks in Kenya didn't surprise Christians in Somalia, who have lived under the shadow of al-Shabab since 2006. Al-Shabab describes itself as waging jihad ("holy war") against the "enemies of Islam." The al-Qaida affiliated terrorist group has made no secret of its goal to rid Somalia of all Christians. In fact, the group circulated a list of suspected Christian converts from Islam. Having your name on al-Shabab's list meant certain death if discovered.
The number of committed Christ followers inside Somalia is unknown. Those that are following Christ are often isolated and unable to fellowship with others. They know that their lives could end with an encounter with al-Shabab and with the now familiar question: "Are you Christian or Muslim?"
Photo Credit: Mohamed Sheikh